The conversation went well and I waved farewell. It was my father that actually talked me out of the whole affair. But the Dwarf's name' I later found out, was Kenny Baker, whom unknown to him or me at the time, was to become R2-D2, the Star Wars Droid, now famous the world over. Before he started in films, I met him again while he was doing pantomime. It was lovely that he remembered me.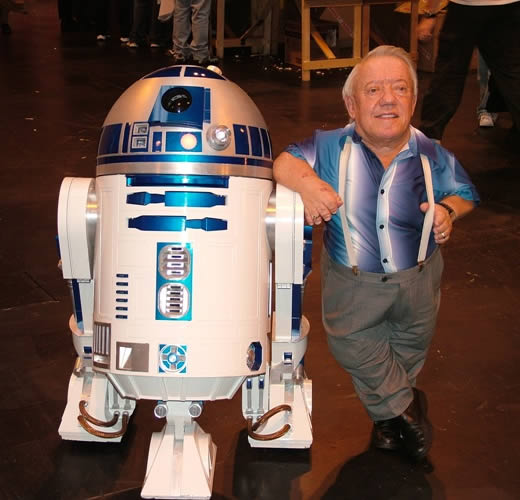 At that time Johnny Kidd & the Pirates were No.1 in the top ten radio charts with 'Shaking all Over'. Then there were The Yardbirds, The Byrds, The Doors, The Kinks, Cream, Pretty Things, and the iconic Rolling Stones. I went to see Julie Driscoll and Holy Trinity, with singer Long John Baldry (unknown to many, playing on keyboards was a very early Rod Stewart). I became more and more involved in music. I loved the technique that the Rolling Stones came out with, it was very inventive. An incredible sound from Bassman, Bill Wyman, totally driving the beat, with drummer Charlie Watts.
Anyway, my Mother and Father weren't listening to me. They were more inclined on getting me working somewhere. Money was tight, and now with another mouth to feed, Stan, my Father, adopted a very good business head. In many of his managerial jobs, he became a Floor Manager for Theatres and Halls. Whilst Joan, my Mother was running a guest house for seasonal Celebrities. I started meeting many TV and Film Stars and getting inside information and tricks of the trade on how things worked.
But before long, I was to meet Ruby Murray, Charlie Drake, Jess Conrad, Eric Greer (whom was Charlie Chester's side kick), Matt Monroe, David Whitfield, Eric and Ernie, Bruce Forsyth and 1st wife Penny, Dusty Springfield and brother, Tom. Dusty was quite an inspiration for me in what she said. Then there was the lovely film stars, Shirley Ann Fields, Oliver Reed and also Kirk Douglas, all working on location in and around Weymouth and Portland at the time, with many others. I started listening to certain types of Rock and Pop music and started to write lyrics for myself.
Then came another twist to my story. My father decided to send me (after talking me into it) to horse racing stables in Compton near Newbury, with trainer, Mr. Ken Cundell. He had a forceful way of getting what he wanted. He came up with this big idea, that because of my height and love of animals, he thought it would be a good move for me. So within weeks I was thrown into the horse racing world as an apprentice jockey. Of course, I made sure I took my radio with me! But after months of being at this ranch, I realised I was getting very unhappy and that I had made a grave error in giving in to my father. This was not what I wanted. I was in the middle of nowhere. The hostel was like something out of David Copperfield. With with a sour-faced matron called Peg. I felt like I had gone backwards into the 1900s. They had these sort of gas lights in the hostel and so it was very dim and depressing. I did not want to let my father down, but again, I was very unhappy. Luck would come my way though, I found out, as Ken Cundell was going to retire from the Racing World. It was easier to tell my father that way. But I did meet Scobie Breasley, Lester Piggott, Doug Mercer and his brother Manny Mercer who was killed by a horse at a later date. I learned a lot about racing and the form, I even learned horse behaviour.
Story continued in next blog post…